So many families are torn. So many marriages are broken. So many children are abused. So many children walk away from God. So many people are walking in poverty. So many people are suffering with illnesses. So many men are discouraged. So many women are hurting. So much evil is present, BUT God is present as well and is more powerful than our enemy. And still, God is looking for the true worshipers! The same power that raised Jesus from the dead is living inside of you. Where are you? Where are the women of faith who will believe for God's will to be done in their families and in others' lives as well? Where are the praying women of God who will intercede for their family and on the behalf of those who need help? Where are the women who will pray for their husbands, children, their pastors, the lost, the government, their city, the church, their enemies, or their neighbor? Where are you?   
      Jesus died and rose so that salvation was made a gift for you, me, and the rest of the world. This free gift of salvation has saved you from many things, not just hell. You are now saved from depression, from sickness, from poverty, and from sin. Now that you are born again, you have been charged by Christ to do a work, to train up your children, to respect your husband, and to reach the lost. In order to do all of this, you must make your requests known to God. We must stop complaining about current situations and start praying. Stop complaining about other's current situations, and start interceding for them. You may have heard the saying, "If you're not part of the solution, you're part of the problem." If you are not praying, encouraging, or serving, then you're most likely complaining or gossiping. As believers, we can pray and God will hear us. We must pray when things are well, not waiting for things to go wrong. If we can spend hours on Facebook, Twitter, at work, or even watching a movie, we can definitely find time to pray fervently to the Father, believing that He hears us and that our prayers are answered.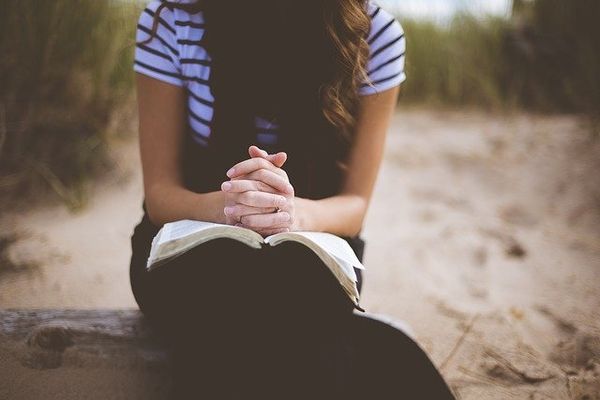 We do not know what goes on in the presence of our children 24 hours a day. We do not know what attacks our husbands minds 24 hours a day. We do not always know what snare the enemy is planning. This is why God has given us a way to live out our faith, trusting in Him by sending up prayers and walking in faith. Angels are waiting to deliver answers to the Earth, but the question is, "Are we giving them enough work?" Even the prophet Daniel understood the need to pray. He prayed 3 times a day, communing with God. Prayer brings you closer to God. Daniel's prayers were answered, he received visions, his faith was increased, had a boldness to stand for God because he knew God would deliver. If we could only pray more, what difference could that make? 
It's time for women to stop worrying or complaining, and time to get on their knees and pray for change. Pray for that child who was diagnosed with autism. Pray for that child who was diagnosed with ADHD. Pray for that husband who is controlling, lazy, or insensitive. Pray for your local church instead of speaking against them. Pray for that mother diagnosed with diabetes. Pray for your sister who dislikes you. Pray for that child who walked away from the Lord. Pray, pray, pray until God answers. He is able and He will. 
2 Chronicles 7:14 If My people who are called by My name will humble themselves, and pray and seek My face, and turn from their wicked ways, then I will hear from heaven, and will forgive their sin and heal their land. 
Psalms 145:18 The LORD is near to all them that call on him, to all that call on him in truth. 
Matthew 7:11 If you then, being evil, know how to give good gifts to your children, how much more shall your Father which is in heaven give good things to them that ask him? 
Luke 6:12 And it came to pass in those days, that he went out into a mountain to pray, and continued all night in prayer to God. 
Luke 18:1 And he spoke a parable to them to this end, that men ought always to pray, and not to faint; 
Romans 8:26 Likewise the Spirit also helps our infirmities: for we know not what we should pray for as we ought: but the Spirit itself makes intercession for us with groanings which cannot be uttered. 
Philippians 4:6 Be careful for nothing; but in every thing by prayer and supplication with thanksgiving let your requests be made known to God. 
Colossians 4:2 Continue in prayer, and watch in the same with thanksgiving; 
1 Thessalonians 5:17 Pray without ceasing. 
1 Timothy 2:8 I will therefore that men pray every where, lifting up holy hands, without wrath and doubting.